These are some of my favorte links.
Some of the links belowe are links to search engines,friends,my girlfriends page and my other Eeyore page.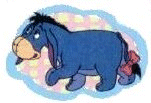 Search Engines
AltaVista You know us as the Internet's original search engine.
Lycos One of the most visited hubs on the Internet reaching one out of every two web users.
Yahoo! With over half a million sites divided into more than 25,000 categories, Yahoo! is both browseable and searchable.
InfoSeek GO Network is a new brand that brings together the very best of the Internet in one, easy to use place.
Favorite Sites
FreeServers.com FREE Web Space for All!
Another page of mine,check it out. Currently there isn't a whole lot to this page but it does have some cool effects and desighns.
My old Eeyore fan page This is my other Eeyore fan page.
My friends page This is my friends page,he's trying to find himself a woman lol???????????????????
My sisters page A page I created for my sister.
My girlfriends page Another page I created,for my sweetheart.
MTV I don't think I need to explain,everyone knows mtv.
Shockwave A cool site with really cool games and music.Check it out
My sister page for her cat This is my sisters page, she made it for her cat.